Title: Death Days
Author: Lia Cooper
Publisher: NineStar Press
Release Date: August 6, 2018
Heat Level: 3 - Some Sex
Pairing: Male/Male
Length: 70000
Genre: Paranormal, college, teaching, magic, dark, slow burn, age gap, vampires, shifters
Synopsis
By day, Professor Nicholas Littman works as an itinerant professor at a small college in the Pacific Northwest. He teaches seminars on mythology and the intersections of folklore and magic in the ancient world. By night, he's the local necromancer, a rare magical talent that has left him alienated from other practitioners. All Nick wants from life is to be left alone to run his magical experiments and teach kids the historical context of magic without anyone being the wiser. Unfortunately, his family is sworn to sit on the council of the Order of the Green Book—a group of magicians dating back to the Crusades—and they aren't willing to take Nick's no for an answer. As though that wasn't bad enough, a coven of Night Women has arrived in town, warning Nick that there are wolves at his door he had better take care of. But what can one necromancer do when every natural and supernatural card seems stacked against him?
Excerpt
Death Days Lia Cooper © 2018 All Rights Reserved One: The Professor "Today we're talking about the elision that occurs between Thoth worship in pre-Ptolemaic Egypt and early Greece. Let's break into four groups for seminar," Professor Nicolas Littman said, eyeing the half-empty teaching theater. He divided the room with a sweep of his arm and glanced at the clock on the back wall. "We'll meet back here in thirty minutes to discuss your thoughts as a group. And I want every small group to come up with a question to pose to the rest of us." He felt gratified at the way they began shuffling together into little clusters without further prompting. "One of you should go use the lounge outside," he said, waving absently at the small group at the very back of the room. He didn't care if they took the direction or not. He trusted in every student's desire to escape the four walls of the classroom given a millimeter of freedom. All that mattered was that he now had thirty minutes of his own time in which to play hooky. Nick grabbed a book and the vape out of his bag, and slipped out of the left-hand exit. Why someone in the administration had decided to give him a corner theater for this class was beyond him. Four credits on Hermetic Mythologies and Cosmologies was hardly in demand. Especially when it was offered as a four-and-a-half-hour option on Saturdays. But if it meant they got a spacious room and the otherwise empty SEM II C building to themselves, he shouldn't complain. His students could spread out to their hearts' content, leaving him to steal outside to smoke without anyone around to gripe at him. "Not even a proper smoke," he muttered, flicking the round silver device on, warming the metal under his hand. Nick sat on the concrete with his back to the building's cement exterior and his knees bent, pressed the tip of the vape between his lips, and held down the button for a long, comforting drag. He closed his eyes to the bright sun and tipped his head back against the wall. Vapor streamed out of his pursed lips in a thick, fragrant cloud and pooled in the air above his head. "Hiding from the students again?" an amused voice asked from above. "I'm not hiding," Nick grumbled. A thin body lowered itself down onto the ground next to him, all long spidery limbs that folded with the kind of soft careless agility Nick hadn't felt in a decade or two. He looked over at his—teaching assistant wasn't the word. Technically, Josiah didn't work for him at all. He was just an independent contract student working on an eight-credit history project, but he let Nick use him like a TA so that's how he always thought of him. "What do you call this?" Josiah asked, knocking their shoulders together. "Seminaring." Josiah's face crumpled up with amusement. His flexible mouth stretched into a laugh while his shoulders shook. Nick held out the vape on offer and waited for Josiah to notice. "Is it peppermint?" he asked. Nick nodded. "No thanks." "I'm not buying cake or whatever it is you like." "Are you trying to say there's something wrong with cake?" Josiah returned Nick's stony look with a nonplussed expression. "It's unna—" "First of all: I don't remember tobacco ever coming in 'peppermint flavor' before, and second: everything you do is unnatural, so that's not a valid argument coming from you, Professor Littman." Nick grimaced. "Don't call me that." "Nick." He sighed and took another long drag off his vape, waiting for the nicotine to soothe the flutter in his heart that Josiah's words had kicked up. Nothing he did was natural. The kid had no idea just how right he was. Nick glanced down at his empty hand, automatically checking his nails for pesky traces of dirt, but there was nothing unusual to see. He'd scrubbed up hard the night before. Done a thorough job not to leave any of those unnatural traces that might have given Josiah a better-formed picture of what his professor and academic adviser got up to in his free time. Shit, even in his head, he sounded like a pervert. "You're wrong. Some things I do are perfectly natural." "Like what?" Nick gave the young man a slow look. "You have a very active imagination, Mr. Wexler." "The imagination is a hungry organ, seeking perpetual nourishment. I like to think that it's not so much I've got an active imagination, but rather a well-fed one." "That you feed on thoughts of me?" Nick smiled, playing the comment off as a joke even though it left something low and hot in his body to sit up with interest. A curl of amused interest that quivered at the thought of a bright young man captivated by thoughts of him, even if they were merely frustrated or prurient or the passing whim of childish fancy, as he suspected was the case. "Sometimes," Josiah admitted, looking away. The two of them sat in companionable silence until the phone in Nick's pocket hiccupped its alarm to let him know that the requisite thirty-minute small group had passed, and he had to return again to face the lethargy of his classroom. "Did you need something?" he asked, using the wall to push himself to his feet, and slipped the vape back into his pocket. Josiah pulled out a sheaf of printouts from his backpack and held them up for Nick to take. "Two new chapters. I wanted to get your thoughts on them before I continue. It took a—the narrative took a direction we haven't discussed before." "All right. I'll see what I can do." "Thanks." "Do you want to come in?" "Nah, I've got to meet Jen. Talk to you next week?" Nick nodded. Above them, the sky had dimmed as sure as if someone had taken a dimmer switch to the sun. Dark clouds cast a clear, watery gray light over campus, the edges of the quad hemmed in on all sides by towering dark trees that only helped to feed into the illusion of night creeping over them. The air smelled as though it were about to rain, bitterly cold and damp. "Do you think it's going to snow?" Josiah asked, climbing to his feet. Nick shook his head. "Not a chance." He filed back into the teaching theater behind the stragglers. Sixty minutes for discussion and in-class readings, and then he'd be free for the rest of the weekend. Nick perched his feet on the edge of his desk, saw the streaks of mud clinging to his shoes, and dropped them again. He cleared his throat and looked out at the crowd for the first person to meet his eyes. "Ah, Amelia, why don't you start us off with a brief summary of what your group discussed." He folded his arms over his chest and listened with half an ear while his focus strayed repeatedly to the darkening sky and the promise of rain.
Purchase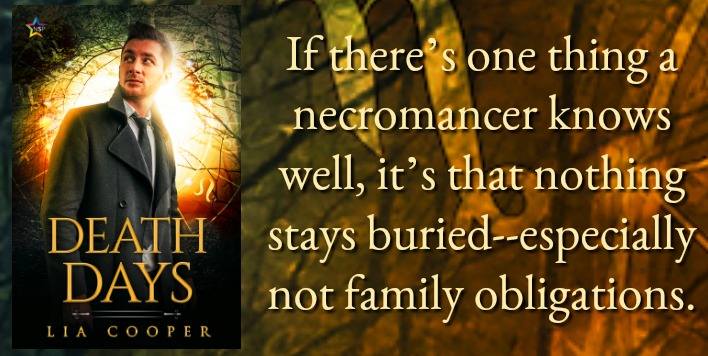 Meet the Author
Lia Cooper is a twenty-something native of the Pacific Northwest, voracious reader, pop-culture addict, and writer. She cultivated an early interest in writing through fandom and completed writing her first full length novel with the help of NaNoWriMo. In the years since, she's dabbled in catering, barista-ing, and working as a pastry chef before finally returning full time to the thing she loves most: storytelling. When she's not glued to Scrivener, Lia enjoys playing video games with friends and reviewing books for her booktube channel.
Giveaway
a Rafflecopter giveaway