Title: Royal Rescue
Author: A. Alex Logan
Publisher: NineStar Press
Release Date: April 8, 2019
Heat Level: 1 - No Sex
Pairing: No Romance, Male/Male
Length: 111500
Genre: New Adult Fantasy, LGBT, asexual, high fantasy, dragons, royalty, magic, young adult, gay, family drama, hurt/comfort
Synopsis
At age eighteen, when they become marriageable, all royal children in the Thousand Kingdoms must either go questing to rescue another royal or be hidden away to await rescue themselves. Some go the traditional route of princes rescuing princesses, but not all princes want to be rescuers…and some would rather rescue other princes. Then there's Prince Gerald, who has no interest in getting married at all. When he refuses to choose a role as either rescuer or rescuee, his royal parents choose for him and have him magicked away to a distant tower to await a spouse. Gerald, however, is having none of it. He recruits his guardian dragon and a would-be rescuer and soon the trio is dashing to all corners of the united kingdoms on a quest to overturn the entire system.
Excerpt
Gerald followed the steward to the study wearing an expression that would have been more appropriate if he were being led to the dungeon. The steward rapped on the door twice before opening it and stepping aside for Gerald. She gave the young man an encouraging wink, but he was too intent on bracing himself for the upcoming confrontation to notice. He took a deep breath, visibly set his shoulders and stepped through the doorway. The steward closed the door behind him, and Gerald fought back the feeling of being trapped. "Don't lurk in the doorway," an imposing voice scolded. "Come in where I can see you." Gerald did as he was told, stopping and giving a shallow bow when the woman came into view. She nodded, acknowledging the courtesy, which caused the sunlight streaming in through the window to catch and reflect off her golden crown. Gerald resisted the urge to reach up and touch his own circlet—silver—which he too late realized was probably once again askew. "Well?" the Queen asked. "Have you made your decision?" Another deep breath, another forceful straightening of his shoulders, and Gerald said, a hint of defiance in his tone, "I have." The Queen's harsh expression broke into a smile. "Oh, Gerald, thank goodness. Your mum and I were about at our wits' end! There's barely enough time left to make all the arrangements. So, what will it be? Rescuer or rescuee?" "Neither." The smile melted off the Queen's face. "Neither! Don't be ridiculous, Gerald. You said you had made your decision." "I have," he said, crossing his arms in front of his chest. "I've decided not to participate." "That is not an option," she said coldly, the warmth in her voice gone the same way as the smile. "As you are well aware." "I don't wish to marry," Gerald replied, trying to match her tone but not quite managing it. "As you are well aware." The Queen waved her hand dismissively. "This is merely the first step. It may take a year or even two for you to rescue—or be rescued by—someone who appeals. Then there's the courtship, the inter-kingdom negotiations, planning the festivities…why, unless it's True Love and you two want to rush things, I doubt the wedding will happen before you turn twenty-one." "I didn't say 'I don't wish to marry in the next three years'," Gerald said, forcing himself to keep his voice level even as he balled his hands into fists. "I said, 'I don't wish to marry.' As in, ever." But the Queen was no longer listening. "I really don't know where we went wrong with you," she said. "We never had this sort of problem with your older siblings or even your twinling…" "Don't call her that," Gerald snapped. "You know how much I hate that—we're not twins, we're not even sort-of twins. We're half-siblings at best and maybe not even related at all." The Queen looked up at the ceiling as if imploring it to give her strength. "Now you're being deliberately obtuse," she snapped back. "You know very well that the term 'twinling' has been in use for at least a century throughout every single one of the Thousand Kingdoms, and it's a perfectly apt word. You're acting like your mum and I made it up to irritate you. You're acting like a child, Gerald." "Isn't the point of all this that I am a child?" he responded. "Isn't the entire purpose of this whole charade of rescue and marriage to make me into an adult?" "It's hardly a charade. It's—" "—a well-respected, long-established tradition to encourage young royals to broaden their horizons, explore more of the Thousand Kingdoms, find love, and forge stronger connections among the Kingdoms, yes, yes, I know," Gerald interrupted. "I still say it's a charade. It's perfectly possible to accomplish all of those goals without forcing every royal into a ridiculous marriage quest the moment they turn eighteen." "You seem to be forgetting something very important here, Gerald," the Queen said calmly. "What's that?" "This isn't optional." "You can't force me to choose," Gerald said. "Why can't you leave me be and let Lila broaden her horizons, explore the Kingdoms, forge alliances, and all that rot? She wants to." "You have ten days," the Queen continued, as if Gerald hadn't spoken. She turned away without even bothering to dismiss him.
Purchase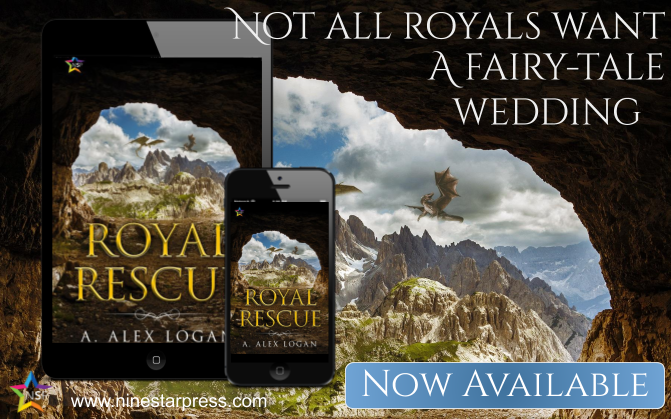 Meet the Author
Alex Logan is an asexual, agender librarian from New York state. Always an avid reader, Alex has branched out from reading books to writing them. Alex's other main interest is soccer, which they enjoy watching, playing, and (of course) reading about.
Giveaway
a Rafflecopter giveaway