Title: Tales from Ardulum
Series: Ardulum. Book Four
Author: J.S. Fields
Publisher: NineStar Press
Release Date: June 10, 2019
Heat Level: 3 - Some Sex
Pairing: Female/Female
Length: 57800
Genre: Science Fiction, LGBT, aliens, bonded, criminals, religion, science, smugglers, space, spaceships, telekinesis, telepathy
Synopsis
One year after saving the Neek homeworld and redefining the people's religion, the crew of the Scarlet Lucidity returns to the Charted Systems for a much-needed break. For Nicholas and Yorden, the Systems will always be home, but for Emn and Atalant, too many memories compound with Emn's strange new illness to provide much relaxation. TALES FROM ARDULUM continues the journey of Atalant, Emn, Yorden, Nicholas, and Salice as they try to define their place in a galaxy that no longer needs them while battling the artifacts of Ardulan colonization. Other stories include Yorden's acquisition of the Mercy's Pledge (and his grudge against the galaxy), Atalant's exile from her homeworld, Ekimet and Savath's romance, and many others.
Excerpt
Tales from Ardulum J.S. Fields © 2019 All Rights Reserved Mercy's Pledge 2030 CE "Scrub it down. Start with the cockpit, then work your way back. No toilets on this thing, of course, because the astronauts used diapers way back when and most of these old models were just for animals, so that's a bright side." The museum curator—a short, thin woman with wavy, brown hair and pinkish skin—produced a half-hearted smile. She tapped a white panel on the starboard flank of the old decommissioned Soviet shuttle. Housed in the warehouse section of some museum in Kaluga, the ship was a Buran model, although it'd been modded so many times since its initial flight that Yorden Kuebrich doubted its insides looked anything like the historic photos. "Yeah, I got it. No worries." Yorden ran his fingers through his beard in what he hoped was an endearing gesture rather than a creepy one, smoothed out the wrinkles on his too-tight coveralls, grabbed his cleaning kit, and walked up the shaky platform steps to the entrance of the shuttle. Cleaning the inside was going to take days, which was just fine. After the year he'd had in the Gaza Strip, not to mention the little heist he was planning, a bit of mindless cleaning while he worked out the details was exactly what he needed. He grimaced at the rank smell of old oil and deteriorating plastic as he squeezed through the narrow walkways of the shuttle. Either the Soviets had been a lot smaller back then or Yorden had put on more weight in the past decade than he'd realized. Didn't matter. Muscle, fat, facial hair…it was all the same when you woke up every morning from nightmares of a friend killed, a family home destroyed, or a passive-aggressive act of one angry government against another. Who was right, who was wrong—it didn't matter then, and it didn't fucking matter now. The world was full of old decay. Religious cousins were still at each other's throats, although now they used words instead of bombs. And it was all stupid because there were actual aliens, turns out, flying around in space. Aliens! Yorden snorted as he entered the tiny cockpit and set his cleaning kit down on a metal case. For ten years now, Earth had been part of the Charted Systems. For ten years, fucking aliens had been showing them how to use wormholes and cellulose tech and weird biometals, and here Yorden was, standing in a metal bucket containing a throttle-lever thing and analog controls after having fled yet another country he'd wanted to call home. His first home, Poland, he'd left because fuck communism and fuck his early memories of the exorbitant price of meat and his family never getting a condo because the lottery was never in their favor. And fuck the lines. He was glad he'd never had kids, never needed to wait in line for twenty-four-plus hours just to buy a damn doll. Anyway, toilet paper was a goddamned miracle he never wanted to live without again. Things got better in the nineties—but he'd been done. Naturally, Yorden had just managed to trade one tortured ideology for another. Israel. Gaza. He was Jewish, in that ham-eating, post-Soviet way. Still, birthright. Homecoming, sort of. It was enough to pull him in. Enough to convince him to try out settling there. That had failed miserably. It was just a different kind of death out there: a faster one, from bullets and bombs. That was all over now, though, because of Charted-fucking-Systems-mandated peace, but nothing could erase his memories. Thus, Yorden was back in Eastern Europe, on a dilapidated shuttle, preparing to install the Cell-Tal components hidden under his cleaning kit and in his bag, so he could fly this hunk of metal off Earth and get into the Systems proper. Yorden grinned. Off Earth, out of this solar system, and away from the crush of history. Away from his history. Away from the politics and the false smiles and the lovey-dovey crap everyone spewed now instead of the thinly veiled racist ideology of the past. People didn't change—Yorden didn't believe they could, not for a hot minute. Humans sure as hell didn't change. Aliens might have brought technology based on turning trees into spacefaring biometals, and they might have brought peace, but neither of those came without a price. If he was going to live a lie, then better if he did it on his terms, in space, where it was a hell of a lot easier to avoid everyone. So, forget Earth. Forget Mars, even. He'd take "diaspora" to a whole new level. "You doing okay, then?" The curator's voice reverberated within the metal, making Yorden wince. "Some of that stuff up in there is pretty delicate." "Yeah, I got it! I'll do the gun turret last since it's not part of the original structure and looks like it wasn't put on well to begin with. I don't know what you guys thought you'd need to shoot with this, other than the peace-toting Risalians that came knocking at our solar door ten years ago." He paused and considered the walls and his very heavy gear bag stuffed with Cell-Tal tech. "I'm going to have to take the wall panels off, too, to clean. I think you've got mice." An expletive came from the curator, although Yorden wasn't certain what language it was in. Not Russian or Polish—he was sure of that. Definitely not Yiddish. Since she was already upset but clearly not willing to come in and inspect the "damage," Yorden added, "Probably best to strip her down to the floor and walls anywhere I can. If you've got one nest, you've got ten, and I don't think you want to pay a guy to redo wiring, right?" "Do what you can and just…make it look right on the outside, okay? No one is ever going to look under the panels. It's not like this Buran is ever going to fly again. That laser was never even fired, from what I know. It was attached quickly. Apparently, humans didn't want to give up their guns when the peace treaty was signed. Not that it does any good on a ship that can't fly." "Oh, she'll fly," Yorden muttered. He waited until he heard the door to the hangar slam shut, followed by the screeching of the wide bay doors to the warehouse closing, and then peeled a clump of old metal and coated wires from the wall. He would put it all back together again, snug as a bug. He just needed to make a few modifications of his own first.
Purchase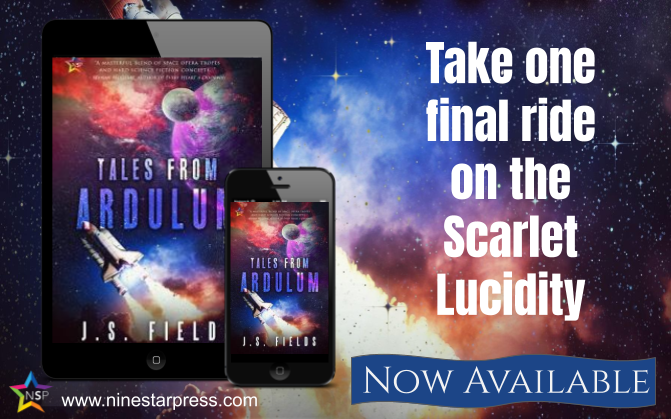 Meet the Author
J.S. Fields is a scientist who has perhaps spent too much time around organic solvents. They enjoy roller derby, woodturning, making chain mail by hand, and cultivating fungi in the backs of minivans. Nonbinary, and always up for a Twitter chat.
Giveaway
a Rafflecopter giveaway