Title: The Kinsey Scale
Series: Campus Connections Book 1
Author: CJane Elliott
Publisher: Dreamspinner Press
Release Date: 11/9/18
Heat Level: 3 - Some Sex
Pairing: Male/Male
Length: 89 pages
Genre: Romance, New Adult, contemporary, friends to lovers, college
Synopsis
Life is good for Eric Brown. He's a senior theater major, an RA for a freshman dorm, and has a great circle of friends. Single since sophomore year, Eric isn't looking for love. But then Will Butler—fellow senior, co-RA, and the cutest guy Eric's ever seen—walks into his dorm. Will has a girlfriend he sees off campus—a minor disappointment that becomes a major problem when a housing shortage causes Will and Eric to become roommates, and Eric is forced to witness Will's hotness day in and day out. For protection, Eric asks Jerry, his ex-boyfriend, to pretend they're still together. Jerry warns him it's a stupid idea, but he reluctantly agrees. Too bad it won't save Eric from losing his heart. Will Butler has never believed in himself. His dysfunctional family saw to that. Although Will has loved music since childhood, he's never seriously considered pursuing it, and the person he's dating doesn't encourage him. Then he and Eric Brown become roommates, and everything changes. Eric believes in Will and his talent. He's also gorgeous and playful and fast becoming Will's best friend. And that's not good, because Will is hiding some big things, not only from Eric, but from himself.
Excerpt
"So how's it going with Hottie the Roommate?" Jerry asked. He lounged in the armchair at the coffee shop and took a languid sip of his latte. "Fine." Eric made a face. "We stay out of each other's way. It sucks, but nothing we can do about it now." "I'm surprised you haven't taken advantage of the situation." Jerry arched his eyebrow. "He's straight. He has a girlfriend who doesn't go here. I guess he sees her on the weekends. I don't know. We don't talk about that." "Don't talk? Oh honey, that doesn't sound like you at all. What's up with that?" "I don't know. Shut up." "Touchy, touchy. God. You're not usually this grumpy. Maybe you should look at changing this RA thing, because it sounds like it's causing you stress." Eric shifted in his chair and sipped his latte. Jerry knew him too well. He was grumpy lately, but it wasn't the RA thing. He enjoyed being an RA and counseling the kids. He and Will functioned well as an RA team, seeming to know instinctively when one of them would do better than the other in handling a situation, and then debriefing about it later. They talked about stuff really easily, and laughed a lot, having discovered they shared the same kind of crazy humor. And Will composed his own songs, which Eric thought was totally cool. He loved lying on his bed listening to Will play his guitar and sing. "Yeah, it's not that bad. We get along great, actually." And it wasn't true that they never talked about Will's girlfriend. Her name was Jessie, and Will sometimes mentioned her in passing, but Eric never pressed for details. In fact he had a strange reluctance to regale Will with his own sexual escapades, the way he always had in the past with friends or roommates. It was a weird thing, almost like a force field or something. They both shut up whenever the conversation veered too close to sex or relationships. And then having to look at Will every day, with his bedhead when he woke up and his naked chest when he came out of the bathroom in his sleep pants, or when his face was animated and he threw back his head and laughed at something Eric said and…. God. No wonder he was grumpy. "Let's go out tonight. You need to dance and get laid." Jerry's voice brought him back. "Okay." It was Friday, so Will would be out of the room, thank God. Maybe Eric would even get lucky and bring someone back with him tonight… or go to their place, given the shitty dorm beds. He yawned, all of a sudden weary. "Oh yes." Jerry peered at him critically. "We've got to get you back to your perky self, my dear. I'm getting you another latte, for starters."
Purchase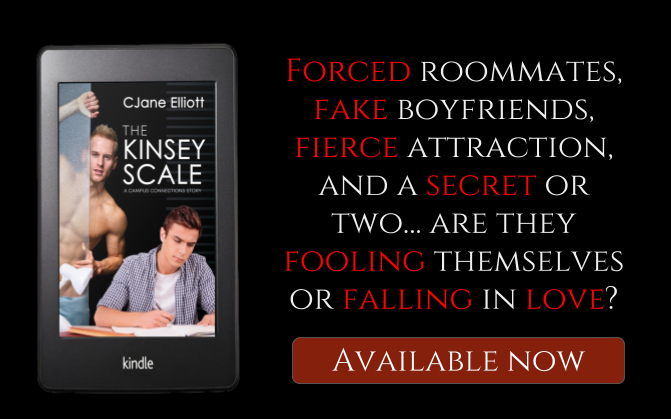 Meet the Author
After years of hearing characters chatting away in her head, CJane Elliott finally decided to put them on paper and hasn't looked back since. A psychotherapist by training, CJane enjoys writing sexy, passionate stories that also explore the human psyche. CJane has traveled all over North America for work and her characters are travelers, too, traveling down into their own depths to find what they need to get to the happy ending. CJane is an ardent supporter of LGBTQ equality and is particularly fond of coming-out stories. In her spare time, CJane can be found dancing, listening to music, or watching old movies. Her family supports her writing habit by staying out of the way when they see her hunched over, staring intensely at her laptop. CJane is the author of the award-winning Serpentine Series, New Adult contemporary novels set at the University of Virginia. Serpentine Walls was a 2014 Rainbow Awards finalist, Aidan's Journey was a 2015 EPIC Awards finalist, and Sex, Love, and Videogames won first place in the New Adult category in the 2016 Swirl Awards and first place in Contemporary Fiction in the 2017 EPIC eBook Awards.
Giveaway
a Rafflecopter giveaway